Back to Home
Back to Show Guests
Natasha Muse:
Edit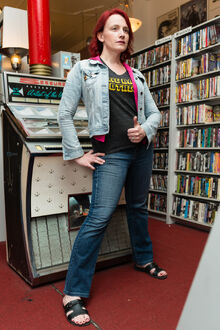 Natasha Muse is like the C3P0 of San Francisco comedy: a bunch of small bears once mistook her for a golden god but in reality she's a bumbling robot (as well as a mom, a transsexual, and a firm agnostic). The SF Weekly once declared her a "Comedian to Watch" in 2014, and in 2016 they upgraded her to an "Artist to Watch." Natasha features at the SF Punchline and Cobb's Comedy Club, and has worked with such comedy luminaries as Maria Bamford, Roseanne Barr, Janeane Garofalo, Wyatt Cenac, and God. Natasha's comedy is so good, it's not even funny.
Need a different bio and/or pic for some reason? Or maybe you're just lonely? Send an email to: NatashaMuse@gMail.com
External Links:
Edit
Community content is available under
CC-BY-SA
unless otherwise noted.