Back to Home
Back to Show Guests
Kevin O'Shea:
Edit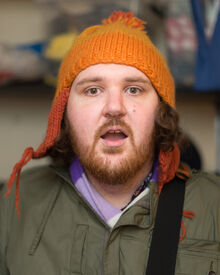 Established in 1984 following the mergers of Steven and Cathy O'Shea, Kevin O'Shea has been one of San Francisco's leading manufactures of mirth, laughter, hilarity and all around good times! Kevin has been commonly described as clever, absurd, awkward but in a funny way and too smart for his own good. 
He has been seen on the Independent Film Chanel and ComedyCentral.com. He was featured as one of the "30 Under 30: Comedians You Should Watch" by Splashlife and Funny or Die. He is a favorite of comedy festivals such as: The SF Sketch Fest, The Burrito and Comedy Festival, Out of Bounds, and the Bridgetown Comedy Festival. Go see him now as his 4th quarter productivity has never been higher.
The comedy of Kevin O'Shea centers around one thing, the truth. He is Full of the truth. He has an over abundance of truth. Some people say that he has too much truth for his own good. These people are right. Last week a doctor found truth in Kevin's urine. He needs your help now more than ever, as he faces a never ending series of painful and expensive dyalisis treatments.
External Links:
Edit