Back to Home
Back to Show Guests, Back to Hosts
Kelly Anneken:
Edit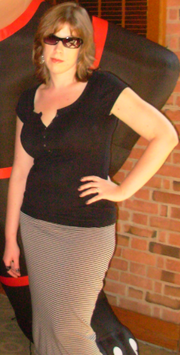 AKA "The Fatling" or "Official Third Chair," Kelly is a frequent guest and BGaS fan favorite. She was hoping to edit this page anonymously, but it just didn't work out.
Kelly is known for:
Feminist critiques of the show, book, Joss Whedon, or anything else that has it coming
Being grossed out by Ivan's more offensive digressions
Her list of the most bangable men in Westeros
Pretend/joke predictions during Book Club podcasts - she can't make real predictions because she has read all of the books
Expertise on the show Downton Abbey, leading to her spin-off podcast, Up Yours, Downstairs. Ivan and Red expect to get a cut of the profits from this podcast in an attempt to "wet their beak."
Her nailbiting rounds in the "Pass Phrase" segments of both of the BGaS game show episodes thus far, despite having absolutely no knowledge of the video game & film franchise Double Dragon.
Episodes in Which Kelly is Featured:

| Episode Number | Episode Title | Type | Guest | Show / Book | Release Date | Length |
| --- | --- | --- | --- | --- | --- | --- |
| 4 | Cripples, Bastards, Ivan, and Red | HBO Show | Kelly Anneken | Season # 1 | July 17, 2011 | 1:11:28 |
| 11 | Season 1 Re-OHHHHHHH SNAP! | HBO Show | Kelly Anneken | Season # 1 | Sept. 11, 2011 | 1:27:20 |
| 13 | Game of Thrones Game Show! | Game Show | Kelly Anneken | N/A | Oct. 2, 2011 | 1:04:04 |
| 23 | The Smoking Pole | Book Club | Kelly Anneken | Game of Thrones | Dec. 11, 2011 | 1:37:18 |
| 27 | The Sentient Wheelchair and The Dreadfort | Book Club | Kelly Anneken | Game of Thrones | Jan. 8, 2012 | 1:56:52 |
| 34 | Book VS Show! | Book Club / HBO Show | Kelly Anneken | Game of Thrones / Season # 1 | Feb. 26, 2012 | 1:18:49 |
| 36 | Downton Abbey | WYSBW | Kelly Anneken  | Downton Abbey | Mar. 11, 2012 | 2:16:14 |
| 46 | The Prince of Bones It Is | HBO Show | Kelly Anneken | Season # 2 | May 21, 2012 | 1:55:36 |
| 50 | The Hooded Cave of the Faceless Man | Book Club | Kelly Anneken | Clash of Kings | June 17, 2012 | 1:42:04 |
| 56 | The Vision Board | Book Club | Kelly Anneken | Clash of Kings | July 29, 2012 | 1:39:45 |
| 63 | Homeopathy and The Sorrowful Men | Book Club | Kelly Anneken | Clash of Kings | Sept. 16, 2012 | 2:01:22 |
| 71 | Book Throwing and Introducing Arya as Future Nan! | Book Club | Kelly Anneken | Clash of Kings | Nov. 12, 2012 | 1:38:54 |
| 73 | Clash of Kings vs. Game of Thrones Season 2 | Book Club / HBO Show | Kelly Anneken | Clash of Kings / Season # 2 | Dec. 2, 2012 | 1:40:43 |
| 74 | Please, Please, Don't Kill Me! The Game of Thrones Season 2 Game Show! | Game Show | Kelly Anneken & Caitlin Gill | N/A | Dec. 9, 2012 | 1:25:36 |
| 90 | Dark Wings, Dark Ducks, and Diana Rigg | HBO Show | Kelly Anneken | Season # 3 | Apr. 8, 2013 | 1:34:13 |
| 95 | The Bear vs The Maiden: Completely Unfair Edition | HBO Show | Kelly Anneken | Season # 3 | May 13, 2013 | 1:30:19 |
| 100 | 100th Episode, Feeling Superior to Ivan and Red | Book Club | Kelly Anneken | A Storm of Swords | June 30, 2013 | 1:30:44 |
| 111 | Hodor, King of The Seven Kingdoms | Book Club | Kelly Anneken | A Storm of Swords | Sept. 15, 2013 | 2:00:30 |
| 124 | The Red Dress Rehearsal | Book Club | Kelly Anneken | A Storm of Swords | Dec. 22, 2013 | 2:01:47 |
| 130 | Please, Please, Don't Kill Me! The Game of Thrones Game Show, Season 3 Edition | Game Show | Kelly Anneken & Guy Branum | N/A | Feb. 2, 2014 | 1:09:06 |
| 139 | Two Swords, One Throat | HBO Show | Kelly Anneken | Season # 4 | Apr. 7, 2014 | 2:00:25 |
| 146 | The Tenacity of Her Vengeance: Women in Game of Thrones | HBO Show | Kelly Anneken | Season # 4 | May 26, 2014 | 1:42:46 |
| 148 | Ygritte's Regrets | HBO Show | Kelly Anneken | Season # 4 | June 8, 2014 | 1:33:34 |
| 156 | Outlander | WYSBW | Kelly Anneken | Outlander | Aug. 9, 2014 | 1:24:02 |
External Links:
Edit