Back to Home
Back to Show Guests
Julia Prescott:
Edit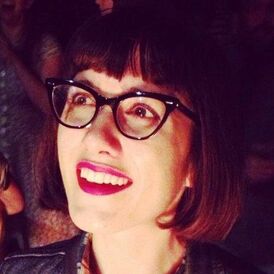 Julia Prescott is a writer and stand-up comedian from North Hollywood, CA. She's written for Cartoon Network, Nickelodeon, Disney, Nerdist, VICE, Geek & Sundry, and more. Her Simpsons-themed podcast, "Everything's Coming Up Podcast" is frequently featured in the Top Comedy Podcasts on iTunes. She can be currently seen touring the country performing stand-up, and will be releasing her debut comedy album, "Every Joke on This Album Kills (because I cut out the ones that didn't)" in 2017.
I've written for Television, the Web, and myself.
I wrote on MAD airing on Cartoon Network, The Aquabats! Super Show! airing on The Hub, Future Worm! airing on Disney XD, and Mutt & Stuff airing on Nick Jr.
I've written for Awesomeness TV, Screen Junkies, and Geek & Sundry.
Occasionally, I contribute to The Establishment. 
Sometimes, I write for VICE. 
I am very proud of my work for Channel 101.
External Links:
Edit