Back to Home
Back to Show Guests
Daymon Ferguson:
Edit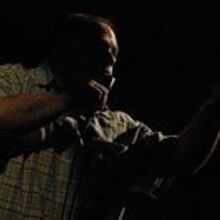 I'm a stand up comic, and right now,  I usually perform for small crowds in dingy basements.  My first album, "
Performing for 25 People
" is a recording of me,  doing exactly that.
Are you gonna like me? If you're the kind of person who likes ice cream, kittens, babies, and stuff that's awesome you will like me. If you read books and use big words to describe farts you'll really like me. If you're a fan of moral outrage and strongly held (often unfounded and usually ridiculous) opinions, you'll love me. I've been described as cute as a button, if the button said "Kill".  I'm a loving father, ex lawyer and full time malcontent. I love fine wine, cheap beer, and screaming into the void.  Intrigued? You damn well should be!
You can download the album for the low(?) price of "Whatever The Hell You Want". I mean that, pay as much or as little as you want.  I hope you'll be cool and pay what you can.  If you can't pay anything, that's ok(I'm broke too),  just tell your friends about me and enjoy the album. Click to Download here!
Episodes in Which Daymon Ferguson is Featured:

| Episode Number | Episode Title | Type | Guest | Show / Book | Release Date | Length |
| --- | --- | --- | --- | --- | --- | --- |
| 8 | The Endy Point | HBO Show | Daymon Ferguson | Season # 1 | Aug. 14, 2011 | 1:16:36 |
External Links:
Edit
Community content is available under
CC-BY-SA
unless otherwise noted.