Back to Home
Back to Show Guests
David Child:
Edit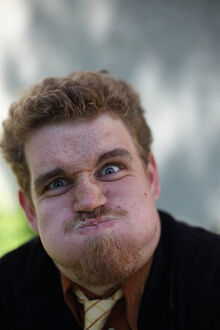 Dave Child is a large man who moves surprisingly well. He's in a comedy dance troupe called Liquid Feet, who do earnest boogies to TV theme songs.
He's a National AirSex Champion, which is a real thing. His dirty pantomime comedy can be seen in the film AIRSEX: THE MOVIE. 
Child's moves can also be seen in several music videos for bands like Katie Herzig, The Behaviors, and Lil' Dicky. 
He's performed stand-up at the Bridgetown Comedy Festival, the Boston Comedy Festival, Hell Yes Fest in New Orleans, Crom Fest in Omaha, as well as several weird bars and weirder comedy clubs. Including some of Los Angeles's top comedy shows like The Meltdown with Jonah and Kumail, Put Your Hands Together, Super Serious, Hot Tub with Kurt and Kristen, and more. 
He's also a Moth Storyslam Winner and a very good hugger.
External Links:
Edit